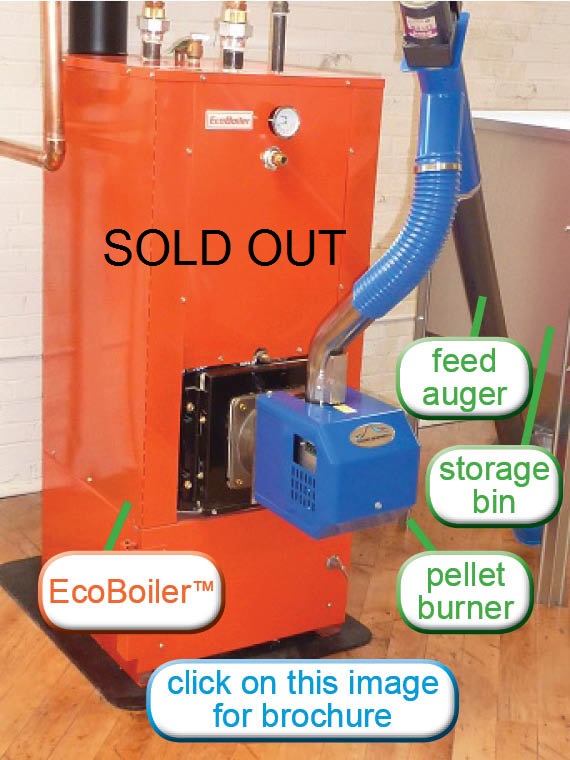 EcoBoiler™: A Pellet Boiler That Appeals to Your Heart and Mind.
Heating your home sustainably is not just better for the environment, it can save you as much as 60% on your heating bills. That's because wood pellets cost much less than oil and propane. Whole house heating with an EcoBoiler™ can save you tens of thousands of dollars over the next 10-15 years.
Pellets: From Supplemental Heat to Primary Heat Source.
Heating with wood pellets is no longer just a stove thing. Central heating with wood pellets is in one million homes in Europe, and is growing here in North America. EcoBoilers give you the comfort and convenience of zone control, and hot water when connected to an indirect tank.
.
EcoBoilers are American-made, ASME-certified wood pellet boilers.
A single EcoBoiler is sized for heating most residential or small commercial spaces. The EcoBoiler wood pellet boiler is engineered and custom-sized to operate efficiently with the output of our burner. EcoBoilers feature a large ash bin, and vertical flue tubes that are easy to brush clean.
Our pellet burner is a rugged Swedish-made burner with thick stainless steel components, and featuring automatic ignition and advanced PLC controls.
This burner has been adapted and safety-tested for the North American market. Thousands of these burners are already in service in Europe, including near the Arctic Circle where the winters are long and frigid. Your installer can set it to meet heat loads up to 65,000 BTU/hr (output), which is enough to heat most homes. A home heating with 1,200 gallons of heating oil, for example, has an average heat load of about 32,000 BTU/hr in January, or about half of the output of this burner.
The third key component in the bundle is one of our pellet storage bins.
We stock two popular sizes (10.6 ft³ and 25.8 ft³, 1 bag = 1ft3), the larger bin gives you the capability to reload fuel as infrequently as every other week during the heating season. We also carry bin extensions to extend the time between refillings. Quality indoor and outdoor storage units that are suitable for bulk delivery are also available.
The fourth component in the suite is the pellet auger, which connects the storage bin to the boiler.
It's controlled by the burner controller, and feeds pellets to the burner in controlled doses while the burner is operating. We carry augers of different lengths, and can even custom manufacture an auger to meet your requirements.
Whether your home is heated with a hot water boiler or a forced air furnace, an EcoBoiler can be fitted as a replacement. Alternatively, you can leave your current boiler (or furnace) as a back-up heat source. Either way, you'll save money on fuel while doing a good turn for the environment and your region's economy, which is where your heating dollars will stay.
EcoHeat Solutions is the exclusive provider of the EcoBoiler suite of products in North America. The EcoBoiler, Swebo burner, feed auger and pellet storage bins are certified to meet North American safety standards. The products can be installed by a trained and certified independent installer near you. Please call us at 877-317-0700, e-mail, or fill out the online request form for information about pricing and availability.