Rebates & Grants in NH & VT
Generous rebates are offered in New Hampshire and Vermont. Please contact us for details, and for equipment that qualifies.
Compare Your Heating Costs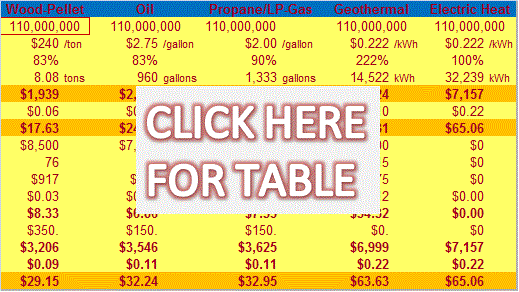 EcoHeat Solutions offers you the chance to Compare Costs, in a side-by-side comparison of the expected upfront costs and operating costs of renewable fuel and traditional fossil fuel based systems.
You'll find out how you can eliminate your use of non-renewable energy for heating your home, school, apartment, commercial or government building with existing, affordable, proven solutions.
Fill out this form to help us learn about your heating system.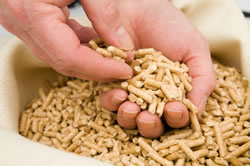 Wood Pellets Today
Wood pellets are a logical step forward in the evolution of heating homes, schools, and businesses. They are produced in dozens of locations here in North America, and meet quality standards for low moisture content, size, durability, and energy content.
Because of this consistency, they are an excellent fuel for central heating systems that run automatically, just like your current boiler or furnace.
They've proven to be a successful replacement for fossil fuels in Europe, where one million homes now heat with wood pellet boilers.
Abundant wood pellet production capacity is now in place to meet the growing demand for low cost, renewable fuel wood-pellet heating systems.
Heating with wood pellets saves you money, displaces foreign-sourced fuels, and recycles 100% of your heating dollars back into the regional economy where you live.
Finally, a sustainable and affordable way to cut your heating costs:

Wood Pellet Boilers
EcoHeat Solutions' wood pellet central heating suite consists of the ASME-certified EcoBoiler in combination with a high quality Swedish-made Swebo burner, feed auger and storage system.
Due to the low cost of wood pellets compared to oil and propane, and the long-term trend for higher prices in these "traditional" fuels, you can save tens of thousands of dollars of fuel costs within 10-15 years. Wouldn't you rather save, or spend that money on something other than heating fuel?
More than 1 million families are saving money and keeping warm this winter with wood pellet boilers in Europe. You can be among the vanguard of pellet boiler users here, with a European-style heating system of your own.
Learn More about EcoBoilers here

or call 877-317-0700 for more info, and to discuss how we might be able to help you set and achieve your objectives for improving your heating system and cutting fuel costs.